MailBox Monday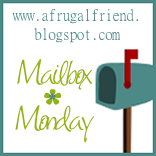 All this FREE in my mailbox this past week! :)~
Magazines:
Women's Health May 2009
Woman's Day May 5, 2009
Woman's Day June 2, 2009
Autoweek May 4, 2009
Elle May 2009
Conde Nast Traveler April 2009
Soap Opera Digest May 5, 2009
Soap Opera Digest May 12, 2009
WalMart Samples:
3 Huggies Pure & Natural diapers size 1 w/ a $3Q
Huggies GoodNights diaper size small w/ a $2Q
Kotex samples 2 pads & 2 tampons
Parent's Choice Gentle Formula Full Day Supply
Rachael Ray Nutrish Dog Food
Came home from Hospital:
Lysol Q's
Eucerin lotion w/ $1Q
Balmex sample
Preparation H portable wipe w/ $1Q
Dreft $2Q
Misc:
Glad ForceFlex trash bag
Small box of Total Cranberry Crunch Cereal
AccuCheck Glucose Monitor Flower Decals
Another Home Made Simple Coupon Book (another free cascade rinse agent!)
Old Navy Coupons (free flag t Q valid May29-31)
8 Gerber coupons for foods, juice & misc
Not a bad week around here! Adjusting to having 2 little ones @ my house. Big brother Gabe LOVES Luke. But naptime and bedtime are a FIASCO around here! Wayne has water off for a few days (keep on raining, please Lord) so he has been helping @ nighttime- but as for the rest of the day, I will be on my own! My mom took off Wed-Fri last week and was here for me. But, unfortunately, according to her she has to be responsible! Darn! I loved her company and just having her here made me feel better! We all need our mama's! Remember that this coming weekend!
Luke had a dr appt on Friday. He was 7.11 when he was born. Was 7.10 when we left the hospital. And Friday he was 7.15. Pleasantly surprised I was! Especially considering he isn't much of an eater! Go Luke!